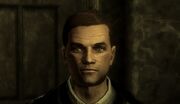 Seraph Eligor is a member of the TSC Intelligence Division at Archangel's command, and is a member of the Seraphim.
Archangel sent Eligor to Moscow to prepare for the arrival of the Commander. During the Bolshevik attack, Seraph Eligor helped the Commander obtain the Hammer Head Armor.
After the attack, Seraph Eligor stayed in Moscow, at his apartment in the RCSN Presidential Palace. 
Seraph Eligor uses a Desert Eagle named Final Argument as his weapon. In his room, another Desert Eagle named Discrepancy can be obtained. This weapon has the same attributes as Final Argument and the same firepower, but with a greater rate of fire.
Seraph Eligor wears a Seraph Outfit with a gray shirt under it. It consists of a black coat with a golden TSC symbol on the breast. Under it, he wears a black tie and a gray shirt.
Seraph Eligor began as a infantry soldier with the Enclave. Later, he became a intelligence agent, and took charge of special operations for a while.
During his time with the Enclave, he was sent on an expedition alongside Schmidt and some of the agents that one day would become the Seraphim. In this journey, Schmidt obtained his Stradivarius.
Community content is available under
CC-BY-SA
unless otherwise noted.